'Being masculine' at the pre-game handshake
Many people have commented on the pre-game non-handshakes of Premiership football stars Luis Suarez, Anton Ferdinand and Wayne Bridge. Suarez was banned for eight matches for racially abusing Patrice Evra at the football game between Liverpool and Manchester United, on 15 October 2011. When the two players met on a different encounter later that year, Suarez avoided shaking Evra's hand. The latter grabbed his arm to perform his disapproval.
On 23 October 2011, in a match between QPR and Chelsea, Ferdinand alleged racial abuse by Chelsea captain John Terry. While the Westminster Magistrates' Court acquitted Terry in a legal case, in the Football Association's civil case Terry was found guilty of racially abusing Ferdinand, and was banned for four games. When the two players met, Ferdinand snubbed Terry in the pre-game handshake. He also ignored Ashley Cole, who testified in favor of Terry in the trial.
In many ways, these two examples can be seen as a social drama, culminating in the refusal of shaking hands with the other person. The pre-game handshake is a ritual, since it refers to a governed code of behavior that needs to be performed by the body. The feeling rule prescribes that it is 'common courtesy' to shake hands with your opponent. Interestingly, the transgression of this norm sustains a more dominant order in and around football pitches, namely the norms of masculinity.
Masculinity can be seen as a set of expected gender norms to be performed by individuals. In the case of Patrice Evra, some commentators on the Internet construe him as a 'cry-baby' for filing a complaint to the FA. The comments can be interpreted as corrective labels that point out to his unsuccessfull performance of masculinity. One comment: "A grown man should not whine about an insult, even racist ones, but solve the issue on the pitch." In this perspective, Suarez' refusal can be seen as an unwillingness of shaking the hand of the man 'that went crying to the authorities' and 'took it outside of the pitch'. At the same time, Evra also performs a trait belonging to hegemonic masculinity, as the non-handshake of Suarez enables him to be 'the bigger man' – willing to put aside his grudge. In the case of Ferdinand, the opposite occurs, for his refusal allows him to switch social roles from being a 'victim' of racial abuse to being an 'aggressive male'. These interpretations show that masculinity is not a clear set of prescribed norms, as it is, among many other factors, shaped by race and ethnicity.
A third example is the incident between Wayne Bridge and John Terry which also perpetuates the masculine order through the social drama of the non-handshake. Wayne Bridge refused to shake the hand of (again) John Terry who is alleged to have had an affair with his ex-wife, Vanessa Peroncel.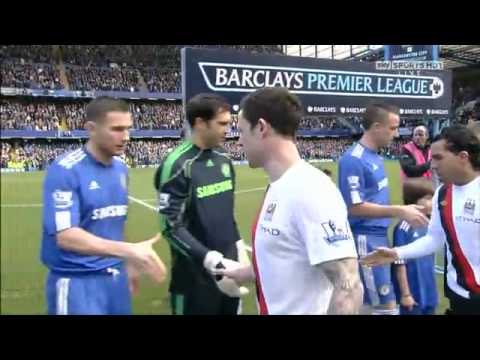 Apparently, the two men used to be good mates. The refusal to shake hands sustains the masculine code of conduct among mates. Terry has breached 'male honour', that of loyalty and reliability among mates. This transgression is underlined and punished by his old mate who refuses to shake his hand.
The Football Association introduced the ritual of shaking hands two years ago as part of the Get On With The Game campaign, which is not only a way of encouraging acceptable behaviour, but constructs this as an essential trait of a respectful role model, gentleman and sportsman – who is supposed to 'get on with it'.